Subscribe Now: Drawdown Georgia by the Numbers
Subscribe now to receive useful, local climate emissions data delivered right to your inbox
Track county-level progress towards net zero emissions with Drawdown Georgia by the Numbers emissions updates.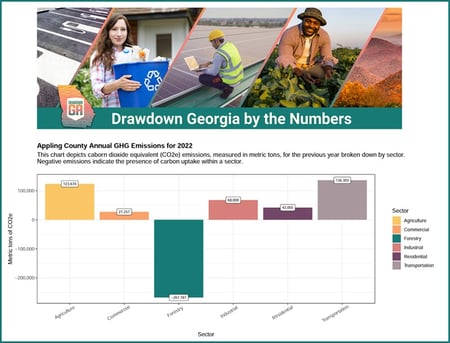 We'll send detailed emissions data on a quarterly basis that will allow you to:
Track climate progress as it happens
Identify opportunities for local improvement on emissions
Compare data year over year and month over month
Subscribe to Drawdown Georgia by the Numbers to receive this valuable information emailed to you automatically four times a year.
When you subscribe, we'll send you an update with details on 2022 county-level emissions in Georgia. The first quarterly emissions update for your county for Q1 of 2023 will be sent in mid-July.
Complete this form to subscribe to Drawdown Georgia by the Numbers county emissions updates:
Are you interested in receiving quarterly updates for more than one Georgia county? Each email will include a direct link to a report on your preferred county as well as provide access to a page where you can view updates for every county in the state.